Brand Evolution Series: Part 1
Do you wonder if your brand is keeping up with changes in your industry? Is the brand speaking your customer's language? Does your company have the necessary brand awareness with your audience?
If you are pondering over similar questions, you are not alone. In fact, in the last couple of years we have seen a significant increase in our client's desire to conduct brand evolution research. These clients are not limited to one industry, running the gamut from financial services companies, healthcare groups, tax and audit firms, environmental service providers, and players in the technology space. These companies come to us looking to gather information on a range of topics related to their brand.


Why do we see a notable increase in brand evolution research?
There are multiple factors that have driven the increase in brand evolution research. Here are some of the key factors.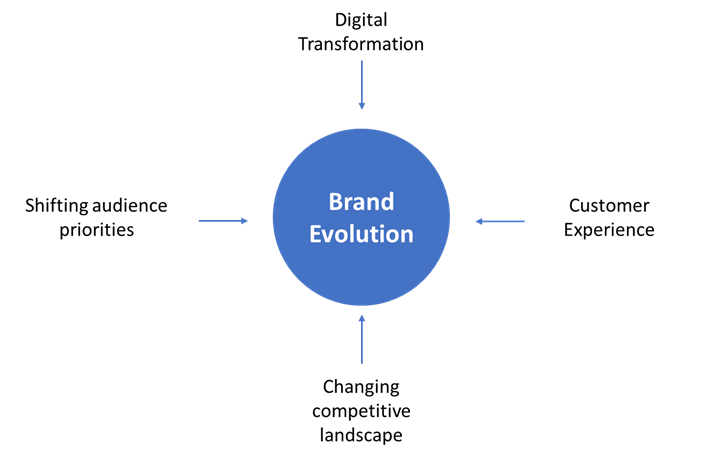 Digital transformation
For years, brands have been navigating the path of digital transformation with website and mobile channels. However, the pandemic drastically accelerated the journey with a significant increase in the number of customers tapping into the digital realm. Brands are trying to transition from traditional brick-and-mortar stores to incorporate a digital experience. This means that brands need to be on the offensive and defensive.
Customer expectations
Due to a crowded and competitive marketplace across every industry, customers have higher expectations now more than ever before. There are heightened customer expectations that can be managed only by better understanding the customer. The mantra here being – brands have to be present where the customer is. Customers expect to seamlessly move between channels. For instance, effortlessly navigating between website and mobile, making omni-channel capabilities a requirement. To understand the customer, the brand needs to measure the relevant metrics across multiple channels. The relevant metrics to measure are unique to each brand. For some, it could be awareness and familiarity. For others, it could be measuring what 'trust' means to its customers.
Changing competitive landscape
A key driver for brand evolution research comes from the changing competitive landscape. There has been an increasing blur between competitors and collaborators, competition becoming asymmetrical, and disruption caused by technology players. A brand's key competitors may not look similar to the brand anymore. The challenge for brands is to understand how they can differentiate against non-traditional competitors. If the brand is trying to move into a new market, will it gain traction and credibility or does it need to be rebranded? There is a greater need to understand why customers choose different brands.
Shifting audience priorities
To remain relevant, brands must closely watch as their audience priorities evolve and change. For example, we have found that DEI and ESG considerations are now taken more seriously in the decision-making process for many audiences. Brands need to take these factors into account to ensure that they stay connected with their audience.
Understanding and measuring these factors requires robust research methods. KS&R has developed a framework that helps us effectively implement brand evolution research. We will discuss more about the framework in part 2 of this series.