Public Perception of Economic Trends
The current economic climate has sparked widespread discussions about inflation and recession, with people taking to social media to express their thoughts and opinions. Our Social Insights Exchange (SIX) Team analyzed social media sentiment to uncover people's thoughts and opinions on inflation and recession.
The conversation surrounding inflation remained strong throughout the year. Our analysis also revealed that while both topics were prevalent on social media, people were twice as likely to discuss inflation compared to the recession, although this gap has been narrowing since December 2022.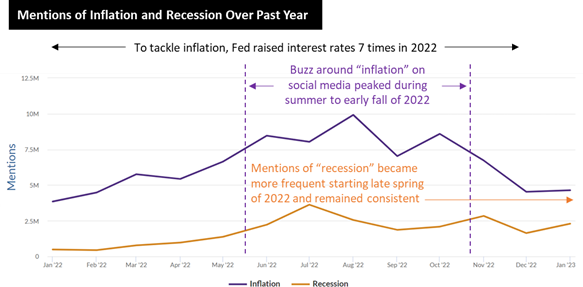 The net sentiment of the conversations related to inflation and recession was consistently negative, although it has slightly eased up for inflation this year. This trend seems to be associated with the fact that inflation has been slowing down for the past six months.
Insights into the Inflation Debate
The conversation around inflation has been particularly persistent on social media, with users discussing a wide range of topics related to the rising cost of goods and services. Our analysis found that food inflation has been a particularly common point of discussion, with many users expressing concern about rising grocery prices and the impact on their household budgets. Additionally, discussions around inflation have often centered on its potential impact on specific industries, such as real estate, healthcare, and transportation. These conversations highlight the broad impact that inflation can have on the economy and society as a whole.
Many are also discussing The Inflation Reduction Act and its potential impact on the economy. Our analysis suggests that the public perception of the act is mixed, with some users viewing it as a promising solution to the current inflation crisis and others questioning its potential effectiveness. Discussions surrounding the act often touch on its potential benefits and drawbacks, such as the impact on interest rates and the national debt.
Unpacking the Recession Discourse
Concerns about a global recession have also been aired on social media, with discussions surrounding massive layoffs in tech firms such as Twitter, Meta, and Amazon. However, these conversations seem to be frequently isolated to the recent tech layoffs rather than layoffs affecting the economy as a whole. According to a tech layoff expert, 2022 saw over 121,000 tech workers being laid off, likely due to an unsustainable hiring spree from late 2020 through 2021 and the Federal Reserve's monetary policy tightening to tackle high levels of inflation. While these layoffs have certainly had an impact on the tech industry, it remains to be seen how they will affect the broader economy.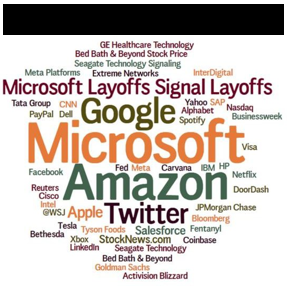 From Social Media to Real-World Impact
As the economic conditions continue to evolve, staying informed about the latest trends and sentiments is crucial. Our Social Insights Exchange Team is dedicated to delivering valuable insights into the current economic climate, enabling you to confidently navigate this dynamic landscape. We will continue to monitor social media discussions related to inflation and recession and update our analysis regularly to keep you informed.