In 2021, over 47 million Americans voluntarily quit their jobs — an unprecedented mass exit from the workforce, spurred on by Covid-19, that is now widely being called the Great Resignation.
This movement is beginning to force dramatic changes in how businesses value their employees and seek potential new hires. One of those changes is how people view the quality of their company-provided benefits and salary. Given this disparity in how both employees and employers view this movement, KS&R's Social Insight Exchange (SIX) Team dug deeper to gather new insights.
"The great resignation is coming. Pandemic-related epiphanies—about family time, remote work, commuting, passion projects, life and death, and what it all means—have workers looking for jobs that better accommodate their wellbeing."
–@taralach; Source: Twitter

Although "Talent Acquisition" is already a common conversation topic, the "Great Resignation" or "Big Quit" movement appears to have first originated in May '21. Possibly as the pandemic progressed and/or the prevalence of working from home grew, the conversation around the topic steadily increased.
Social conversation peaked around mid-January '22 for topics about the "Great Resignation", meanwhile talk around "Talent Acquisition" remained consistently lower than its counterpart. While mentions are beginning to decrease from that peak, the conversation volume is still higher than before the pandemic or before remote working became a commonality.
Has the Conversation on the "Great Resignation" and "Talent Acquisition" Changed Over Time?
Yes – though very slightly, we can see a gradual decrease in net sentiment in the past year for "The Great Resignation" – "Talent Acquisition" remains relatively unchanged over time. Afterward, net sentiment begins to slowly level off as we get closer to current times but remains as an overall positive metric for optimistic mentions outweighing the negative streams. KS&R's SIX team will continue to monitor this trend.

What is Causing the Slight Downward Shifts in Net Sentiment?
We hypothesize that employees began to realize the important personal values that are highlighted by the pandemic, such as increased family time through remote work, less commuting, or the ability for flexible hours, and the social conversation shows that. With employees pushing companies to put more attention on their welfare, human resources and recruiters began to struggle to adapt to the remote environment, while inadequately fulfilling employee satisfaction. Another factor for the decrease is as the pandemic spread, organizational healthcare costs increased as
well, with companies struggling to manage employee benefits as a prime consideration.
"Challenges HRs Confront During Covid-19 Phase. The most challenging part for HRs across organizations is to balance employee satisfaction and organizational healthcare costs."
"COVID-19 pushed #HR to shift to a remote environment, requiring #talentacquisition to adjust its process to accommodate this change."
–@HRMcLeanCo; Source: Twitter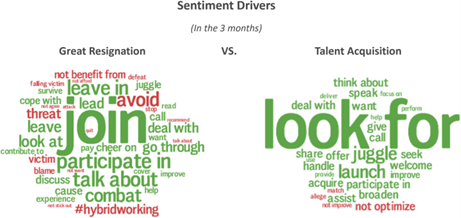 Are There Any Differences Among Industries?
Much of the current social conversation is sourced from the healthcare industry, with retail/e-commerce as a close second. The sentiment tends to be a drastic "call for help" in these industries, with several expressing how such companies are feeling the full effect of the "Great Resignation" movement and struggling to acquire new talent.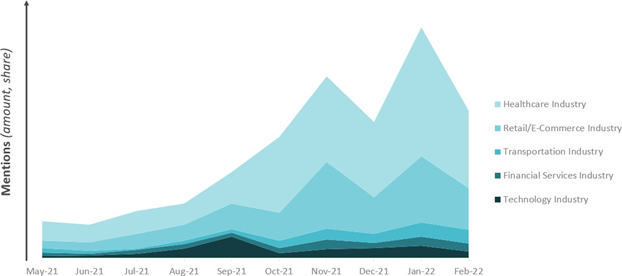 "An Aggressive Approach to the Great Resignation (which includes both resignations in favor of other jobs and complete departures from the workforce in the wake of COVID-19) continues to impact employers everywhere, and this is particularly the case in the healthcare sector. Healthcare workers have faced unprecedented challenges during the pandemic and historic levels of burnout, requiring employers to make special efforts to retain employees."
—mondaq.com; Source: News
"To me, this is the most alarming chart from the Great Resignation: Skyrocketing quits in healthcare doctors, nurses, aides & more are burned out and we're still in a pandemic. Healthcare quit rate: March: 2.3% April 2.5% May 2.4% June 2.5% July 2.7% Aug 2.8% Sept 2.8% Oct 2.7% Nov: 3%."
—@byHeatherLong; Source: Twitter
"While the "Great Resignation" was born out of the pandemic, the sentiments behind it have been brewing for years in retail. I do think it will have a long-run effect on certain industries that require in-person work and have tended to pay the lowest wages (retail and hospitality)."
—@ermidunno; Source: Tumblr; Reference: businessinsider.com
KS&R's Social Insight Exchange (SIX) provides businesses a view into unsolicited consumer and business opinions by capturing online conversations and opinions. For more information, please contact the SIX team.