Brand Evolution Series: Part 3
As markets shift, brands that remain static risk obsolescence. But those that evolve? They reap dividends. In this conclusive part of our three-part series, we shine a light on the returns of effective brand evolution. In Part 1, Jaya Gopalan explains the growing significance of brand evolution while in Part 2, Chris Hargett provides a framework for measuring the market perception of your brand.
A Spectrum of Brand Transformations
Brands often evolve in response to the ever-changing market landscape, sometimes in extreme ways. While some shifts are groundbreaking, others opt for a more subtle approach. A stroll down memory lane might remind you of a few audacious brand transformations:
Eggo Brunch in a Jar Sippin' Cream (2023): The Kellogg's brand Eggo evolved their identity from just waffles to also include a boozy liqueur with flavors of waffles, syrup, and bacon.
Gucci Pet Collection (2022): The iconic fashion brand extended to launch a pet collection that included leashes, collars, beds, and even food and water bowls.
Coors Light Body Spray (2021): Maybe my favorite example is this beer brewer moving into the fragrance business, offering hints of "mountain stream."
It's worth noting that not all brand evolutions are as adventurous; many prefer quieter transitions.
The Core Aims of Brand Evolution
While not always as extreme as the examples above, each day global brands seek firms like ours to understand the market recognition of their brand and assess the degree to which they can push boundaries to be accepted in new target arenas.
Ideally, brand evolution research informs new strategies to achieve the following goals:
Enhance current customer experiences – identifying more effective ways to service the customers you already have.
Access new customers – better target individuals, markets, or segments who are NOT currently users of the brand.
Create innovative products – brand evolution paints a picture of where the brand has permission in spaces that are not traditionally their own.
Deepening Ties with Current Customers
The only constant? Change. Customer preferences, competition, market dynamics – they're all in flux.  These changes need to be observed and measured in a systematic format so that the brand strategy can evolve accordingly. Checking in on your core customer base is critical to learn how these various influences are impacting their perception of your brand.
We typically measure the critical attributes and behaviors that are important to customers in any specific brand interaction. Naturally, these elements vary based on industry, service type, and other factors. After identifying them, we evaluate your brand's performance in these areas in comparison to select competitors.
Often, our findings culminate in a quadrant chart, juxtaposing customer desires against your brand's performance. Results can be used to identify areas of strength, where a brand can highlight their already recognized association with certain attributes that are important to customers, or target areas that require investment to shore up perceived weaknesses.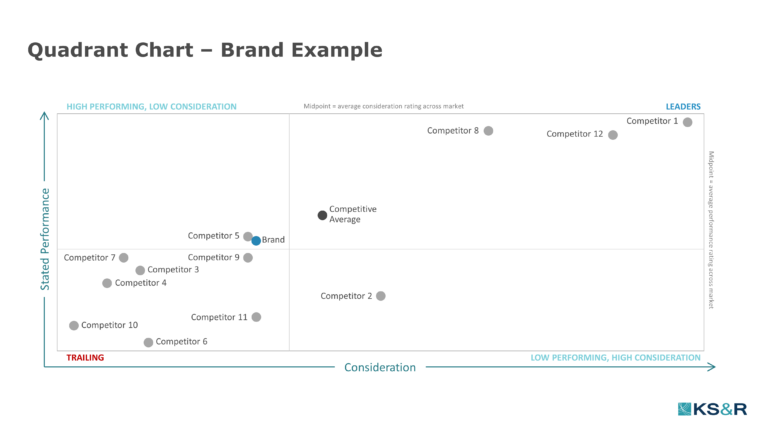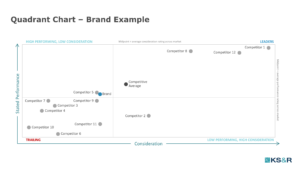 Broadening the Horizon to New Customers
Listening solely to your current customers is not enough to keep the brand on an evolutionary path. To truly understand and navigate growth avenues, it's vital to also seek feedback from those unfamiliar with or resistant to your brand. Identifying what this population is seeking will help formulate strategies for growth.
Are there key attributes that this group is seeking that your brand does not currently deliver on? Are there segments looking for more personalized service? Are you missing out on a corner of the market seeking a particular price point? Could a higher level of thought leadership help cement long-term relationships with clients? These are questions to address when looking to evolve your brand relationships.
Moreover, there may simply be a lack of awareness. This is more often relevant among newer brands or even those mature brands expanding into new geographic footprints.
Solving these challenges can be difficult. You will be forced to simultaneously change your focus towards new market opportunities while being careful not to alienate current customers already satisfied with the solutions your business provides. But the return on that investment could be enormous – by expanding the overall pool of potential customers.
Trailblazing with Innovative Products
Talking to your target audience, both customers and non-customers, provides a forum to keep apprised of new trends and unforeseen market shifts. Brand evolution research empowers you to not only identify current needs, but also to see how they change over time. This research also serves as a tool to uncover what your competitors may be up to, how they are being perceived by your customer base, or what they are doing particularly well (or poorly) that could have large impacts on your brand.
When considering branching out into a new space, whether it's a new service or new product, it is important to make sure your brand is seen as legitimate in that domain. Brand research can help gauge if your customer base has the same level of confidence in potential frontiers as it does with your tried-and-true offerings.
To harness such insights to their fullest, we champion Activation Workshops. Involving stakeholders from various departments, such as sales, operations, and marketing, paints a holistic view, propelling your brand towards untapped market opportunities.
The Imperative Evolution
Brand evolution isn't a luxury; it's a strategic necessity. It's the compass that navigates through the ebbs and flows of market trends, guiding you towards sustainable growth.
Staying aware of your own performance, perceptions, and current market permission is not enough. To be prepared to make bold moves into new markets, gathering knowledge is imperative. Conducting Brand Evolution Research will give you the insights you need to create your own opportunities.